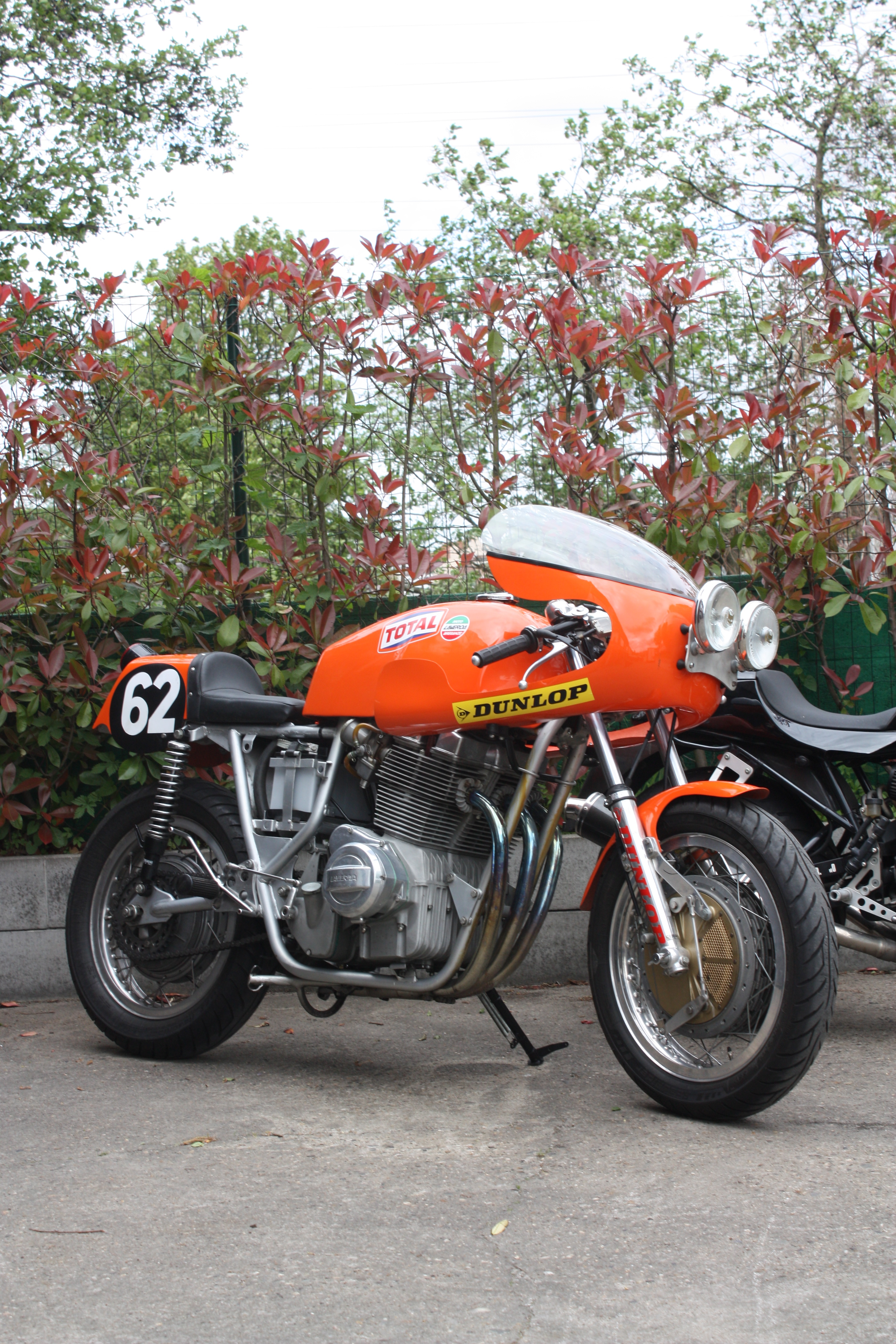 Technical Specs
Type;   Bol D'Or 1000
Year; 1972
Displacement ; 981cc
Engine type; DOHC 2 valve, three cylinder
Frame type; steel double cradle
Transmission;  5 speed
Power output; 90bhp
Maximum speed; 240kph
Number produced;  1
It is a copy of an endurance racer that raced in the 1972 Bol'Dor 24 hour race. Since completion it has done five laps of Mallory Park Circuit. It was ridden by the original Laverda works tester, at the Festival of a Thousand Bikes, back in July 2009.
The tank was made by hand from a flat sheet of allumunium, after first making a full size wooden buck from laminating plywood together to get the initial shape. The bottom of the tank had to be made in such a way that it fitted neatly onto the frame, missing anything that got in the way. It was then sprayed Laverda Orange as was the rest of the bike.
The Marchal headlights are a replica of the original bike.
Every nut bolt and washer, every bearing, has been new
from the outset. No expense was spared on the building of this bike.
It is the only one in existence. Featuring the huge Fontana four leading
shoe front brake, Marzocci headlights, all engine internals, including
a fully balanced crank and gearbox internals, with new bearings throughout.
Petrol tank hand made to the exact spec of the original bike, seat and rear
squab also. Exhaust silencers and down pipes all made to fit the slightly
tilted back engine setting to aid ground clearance, as the original.
Technical Specs
Type;   Bol D'Or 1000
Year; 1972
Displacement ; 981cc
Engine type; DOHC 2 valve, three cylinder
Frame type; steel double cradle
Transmission;  5 speed
Power output; 90bhp
Maximum speed; 240kph
Number produced;  1